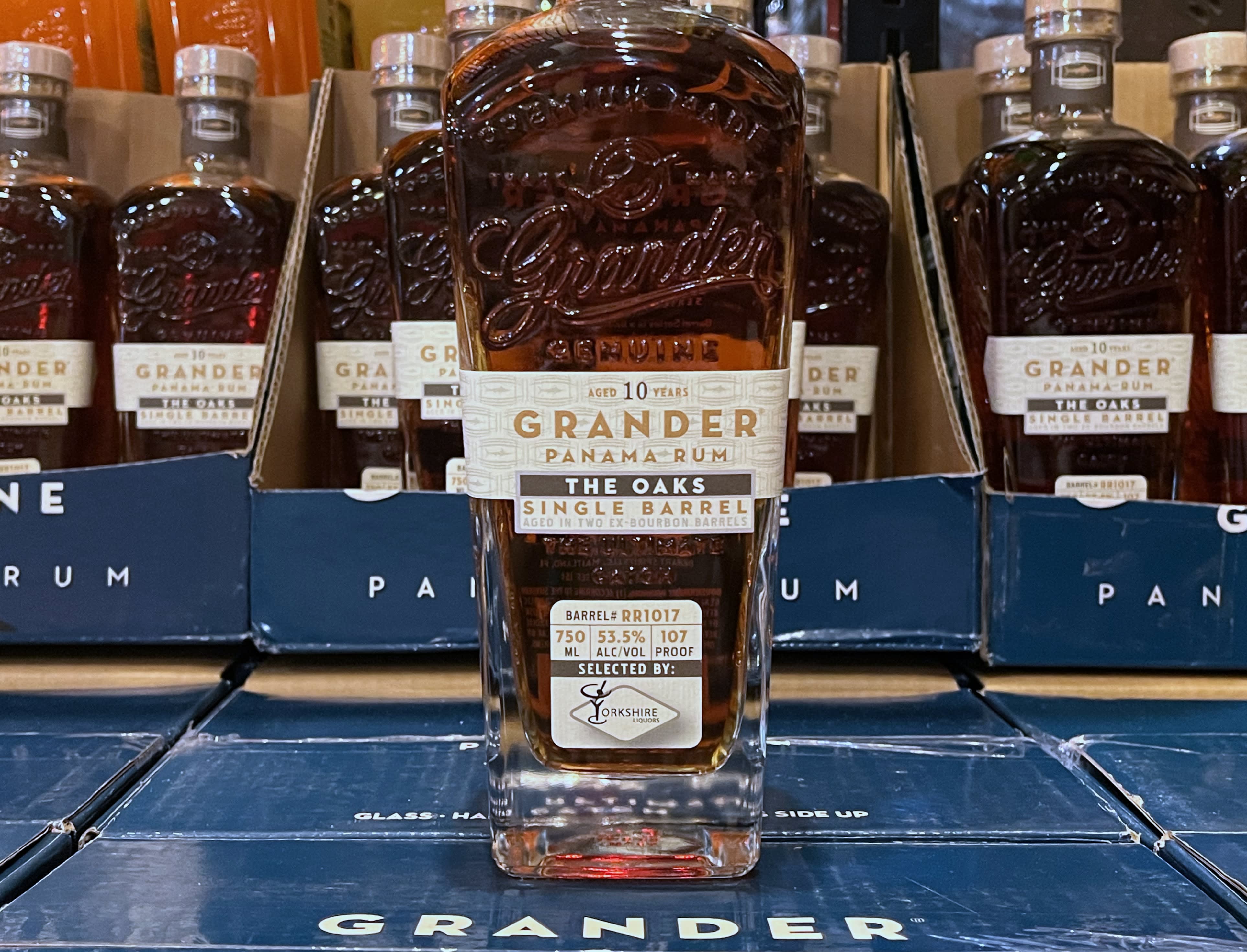 Announcing Barrel Pick #002: Grander The Oaks 10 year
Check this out on the Barrel Picks page
Today, I am happy to announce the arrival of the latest Memphis Rum Club single barrel pick: Grander The Oaks 10 year!
This opportunity came about after illness and travel prevented us from joining a different retail partner with a single barrel selection. A chance encounter with Grander owner Dan DeHart at the 2022 Alabama Rum Festival lead me to connect with the owner of Yorkshire Liquors– Jeff Howell– about a future single barrel selection.
It worked out that Dan was heading to Memphis in October 2022 to help Jeff and the Yorkshire team select a new single barrel, and we were able to join the selection team. On October 27, the team gathered at Yorkshire to meet Dan and see what he had in store.
The selection group consisted of Geoff Davis and Drew Cicala of the Memphis Rum Club, Jeff Howell and Jeremy Proffit from Yorkshire Liquors, and Stephen Choate of Midsouth Bourbon. Grander owner Dan DeHart brought a number of samples of toasted oak and double-matured rums that we tasted through.
After careful deliberation and a straw-poll, we ended up selecting cask #RR1017!
This sample was the only one that wasn't from Grander's Toasted Oak (heavy toast, light char) expression: cask #RR1017 was from The Oaks expression, which is relatively newer to the brand's lineup.
The Oaks rums are matured in first-fill, ex-Bourbon casks. After initially maturing for 10 years in an ex-Bourbon cask of undisclosed origin, the rum was transferred to a second cask to finish for 11 additional months. This release's second cask had a no. 4 alligator char and was previously used to mature Russel's Reserve 10 year old Bourbon.
Where to Buy
This release is available exclusively at Yorkshire Liquors (Facebook, Instagram) in Memphis, TN.
About the Rum
Appearance
Dark amber with an orange tinge, medium clarity, low viscosity
Nose
Caramel, old leather, toffee, orange zest; after adding some water– King's Hawaiian roll, maple syrup, baking spices
Palate
Vanilla, caremel, cinnamon, marzipan, saltwater taffy; after adding some water– pastry dough, mixed nuts (almonds, cashews, pecans), black pepper
Finish
Medium length, tannic, warming, drying; bourbon-soaked oak, vanilla, black cherries, slightly bitter blanched almonds
Acknowledgements
I want to thank the entire selection crew (Steven, Drew, Jeff, and Jeremy), Yorkshire Liquors, Dan DeHart, and the team at Las Cabras for helping to make this single barrel pick a reality.