Overview
Brand: Transcontinental Rum Line
Origin: Hampden Estate, Wakefield, Trelawny Parish, Jamaica (picked by Friends of Rum Tennessee)
Still: Pot
Age: 9 years, 3 months
Finish: ex-Bourbon & ex-Cognac
ABV: 56.6%
The Transcontinental Rum Line (TCRL) may sound like a steam-fueled train from the turn of the century, or perhaps an ocean liner of yore, sailing the Seven Seas; if you pictured the latter, you would be right (kind of). TCRL does borrow the ocean liner motif, but in fact it is an independent bottler (IB) that specializes in rum that has spent some time tropically aging, and some time aging continentally (meaning Europe).
TCRL is another brand born from the partnership of Le Maison du Whisky in France and Velier in Italy. They created the company Le Maison & Velier (LM&V) to produce world-class rum projects, including some that we have already discussed, such as Habitation Velier and Hampden Estate distillery releases. Similar to other IBs, Transcontinental Rum Line sources its rums from wholesalers (E&A Scheer and the Main Rum Co are two well-known companies who specialize in rum wholesaling), who themselves had bought the rum from the respective distilleries. Some IBs feature fully tropically-aged rum, but in TCRL's case, all rums spend some time maturing in their countries of origin, before aging in the temperate climate of Europe.
As an introduction to this wonderful line of rums, we have a special single barrel release of a Hampden Estate rum, selected by our affiliated group, Friends of Rum Tennessee (FORT). TCRL Jamaica HD 2012 started its journey in Wakefield, Jamaica, where it aged for 3 years in an ex-Bourbon cask (barrel ID of HD12LS08), before heading to Europe for another 6 years of aging in an ex-Cognac cask. It was then bottled at 56.6% without any additives and an ester count of 124.6 g/hlpa. For this year's crop of TCRL single barrels, LM&V have decided to fashion a beautiful wooden box, opened on the front and back sides, to transport and show off the bottle; this is a nice step up from the paper boxes used in core TCRL releases.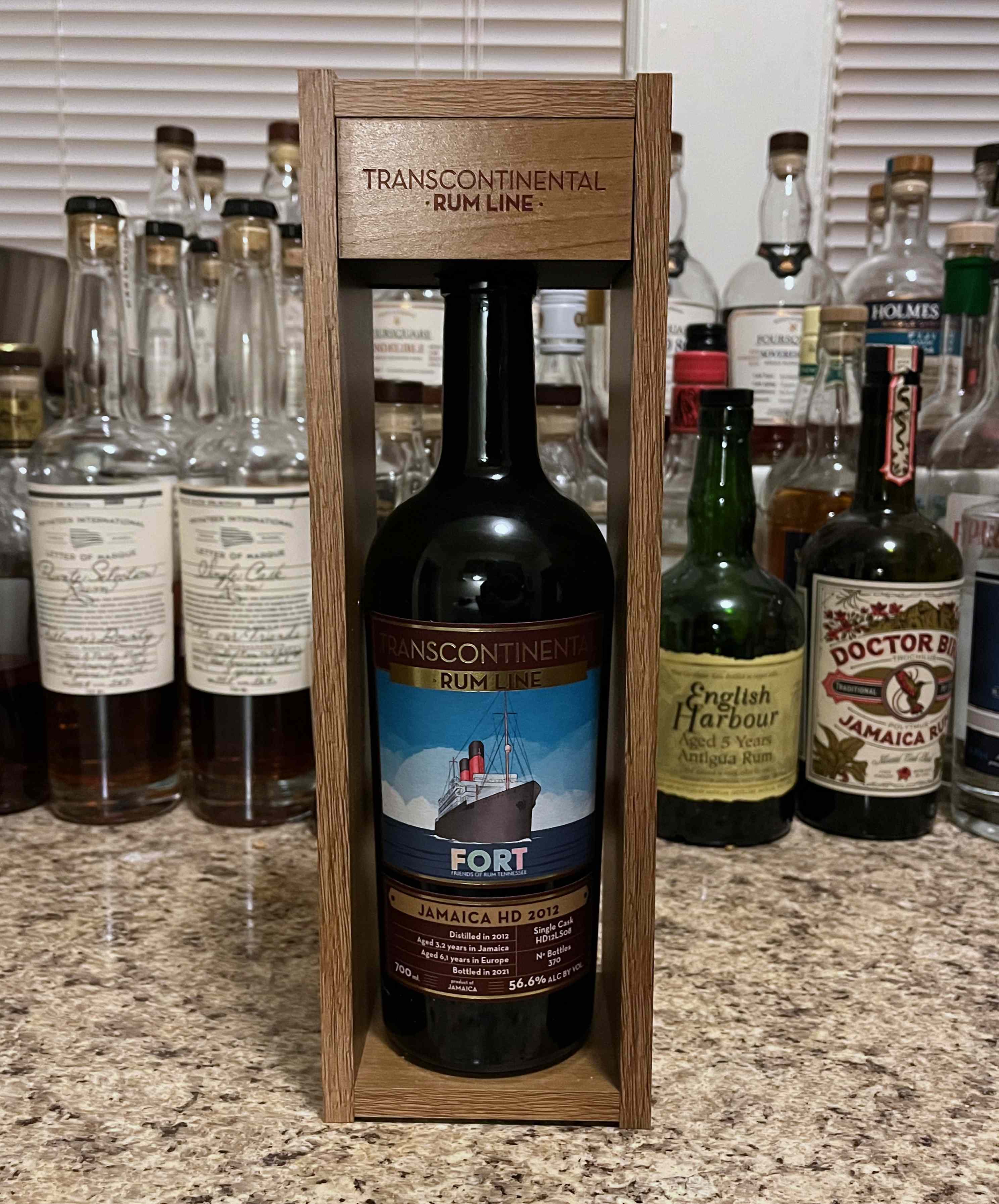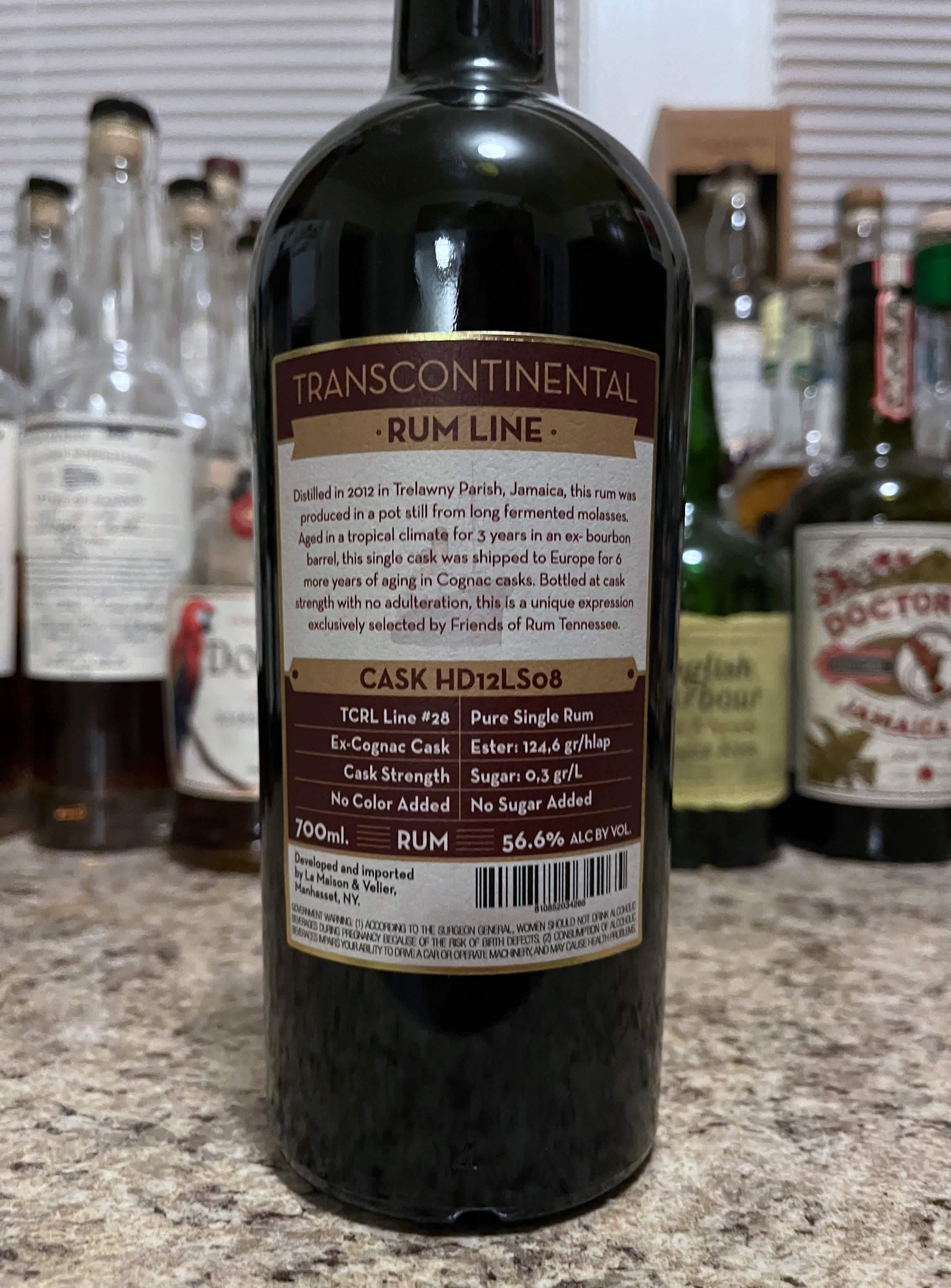 Looking at the label, there is a ton of information about this rum, but no specific mention of Hampden Estate, or another distillery; so how do we know this is from Hampden? The "HD" in the name "Jamaica HD 2012" sneakily refers to Hampden, which is similar to another TCRL bottling of Jamaican rum, which uses "WP" for Worthy Park.
There are a number of reasons why some distilleries do not allow (or perhaps may request not to have) IBs identifying the source of rums on their bottle: brand protection is one, the loss of quality control once a rum is sold to a wholesaler is another (that isn't to say that independently-bottled rums have poor quality). When this is the case, some IBs choose to respect this agreement while still providing some indication as to where the juice came from.
Without further ado, let's get into reviewing the actual rum.
Appearance
Orange-gold, medium clarity, medium-high viscosity
Nose
Green grapes, Smarties candies, fresh pineapple, butterscotch, orange peel, permanent marker
Palate
Pre-ripened pineapple, mangos, papaya, guava, light honey, nutmeg, sour grapes
Finish
Medium length; sour fruity funk, coffee, bourbon oak, cinnamon
Summary
When I brought this bottle home, I honestly did not have any idea what I was getting myself into; an over 9 year-aged, cognac-matured, cask strength Hampden rum? How was that all going to work together? Turns out pretty damn well.
This rum is absolutely incredible, and perhaps the most complex rum I've tried from Jamaica. The nose is misleadingly subtle, while the first sip is an absolute explosion of fruity goodness, yet neither aspect truly suggests that this is an overproof rum, save for a brief moment in the mid-to-late palate.
Jamaica HD 2012 is a wonderful orange-gold color, with medium clarity and medium-low viscosity.
The nose offers green grapes, Smarties candies, fresh pineapple, butterscotch, and orange peel. Once rested a few minutes, permanent marker starts to make an appearance near the end of the nosing. It's a delightful, subversive aroma that pulls you in and perhaps may make you wonder what all the fuss is about with this bottle.
On the palate, I get an absolute explosion of pre-ripe pineapple, mangos, papaya, guava, some light honey, sour grapes, and a touch of nutmeg. The 6 years this rum spent in the ex-Cognac cask really did some work, and imparted some grape flavors and likely the note of a light gold, light-bodied honey. These sweet and fruity notes marry incredibly well with the traditional fruity funk of a Hampden rum; the signature notes themselves are a bit subdued by the cask aging, but are still pronounced given the 56.6% proof point.
The finish is a medium length; it's definitely there, but does not demand your attention as much as some other rums may. There are notes of sour fruity funk, a slightly bitter coffee, bourbon oak, and cinnamon. The heavy fruit explosion has left by this point, so the duration of the finish is dominated by more savory elements, before fading away almost completely.
I am proud that FORT picked such an amazing barrel, and very glad that we were able to get some bottles in Memphis. This is definitely a rum worthy of having a backup bottle sitting in reserve for some time. This makes me excited to see other clubs' TCRL single barrel picks (I hear the Florida Rum Society has a Trinidad…), and is a perfect lead into the next TCRL core lineup release later this year.