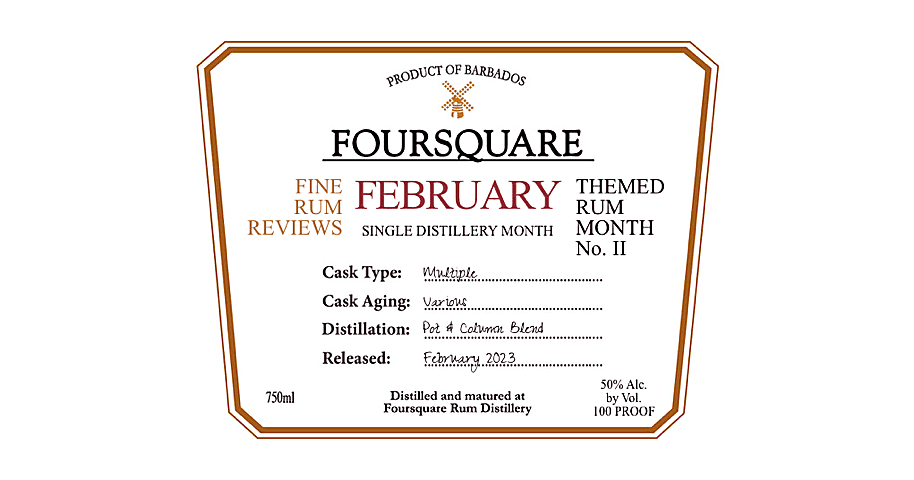 Kicking Off Foursquare February
Back in September, we launched our first themed month of reviews with Sample September. I had a lot of fun diving into my modest collection of samples that my friends had given me, and thought it was a nice exercise to break up the usual business of working through my rum collection.
For this themed month, I am again leaning into alliteration. February will feature a distillery that I– and many other rum enthusiasts– know and love: Foursquare. Hence, tomorrow we will be kicking off Foursquare February!
It will work the same way as our previous themed month: the first post will be announced, and the following reviews will be revealed as they are posted. We'll be looking at all things Foursquare: from Exceptional Cask Selections, to independent bottler releases, and even tapping into some brands that are lesser-known and/or only available on Barbados.
Below is the list of bottles that I will be reviewing throughout Foursquare February:
Foursquare 2010 (2/1)
Foursquare Sagacity (2/8)
SECRET BOTTLE (2/18)
SECRET BOTTLE (2/22)
SECRET BOTTLE (2/26)
As the month progresses, this list will be updated with each new rum name and a link to the review. If you would like to join in the fun, share a Foursquare post to Instagram, tag us at @memphis.rum.club, and use the hashtag #foursquarefebruary; we'll re-share posts as they come in!